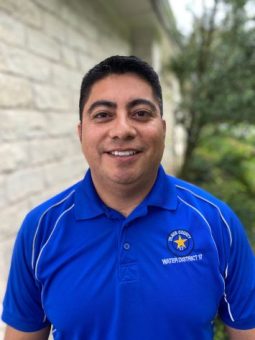 District Field Manager
Juan Sanchez currently serves Travis County Water Control and Improvement District No. 17  (WCID No. 17) as its Field Manager. He is directly responsible for all water distribution, inspection and safety operations at WCID No. 17. Juan began his career with Travis County WCID No. 17 in 2004, hiring on as a utility technician responsible for installing water service connections and meter reading. Learning the District from the ground up over his nearly 20 year career, Juan has held positions of continuously increasing responsibility and leadership.
Juan's exemplary work ethic and commitment to the community have been evident throughout his career as he has obtained numerous state licenses for water operation and distribution. Most recently Juan spent the past 8 years leading the District's Construction Inspections department. Charged with ensuring compliance with all State and Local requirements for water utility installation, Juan's team was responsible for the accurate review and approval of all schematics for residential and commercial site plans, utility design and adherence to the District's high standards.
During his tenure at WCID No. 17, Juan has observed and experienced the rapid growth in and around the Lake Travis community. Working along-side various developers, engineers, and utility contractors, he constantly strives for perfection in system construction while ensuring he provides only the highest level of customer service to his community. As a proud long time resident of the Lake Travis area, Juan is committed to ensuring every facet of District field operations meets and exceeds the high standards the District is known for.
Juan Sanchez has been recognized for his superior performance numerous times throughout his career at WCID No. 17 for outstanding customer service. A selfless leader who effectively leads through team building and job accomplishment, Juan was additionally selected as the District's Supervisor of the Year and was also awarded the District's most prestigious award, Employee of the Year, for his ceaseless commitment to the District, it's employees and the community it serves.