512-266-1111 | After Hours Emergency Phone #: 512-537-8302 |
Login
Wednesday, October 20, 2021
Stormwater Drainage
March 22, 2021 – Stormwater Pollution Prevention for Small Residential Construction Sites
What to expect?
There is much growth in our lakeside community these days which means there are many construction sites all around our area. What preventative measures should be taken by all developers in order to prevent Stormwater Pollution into our creeks and into our lake? Please take a look at the following infographic: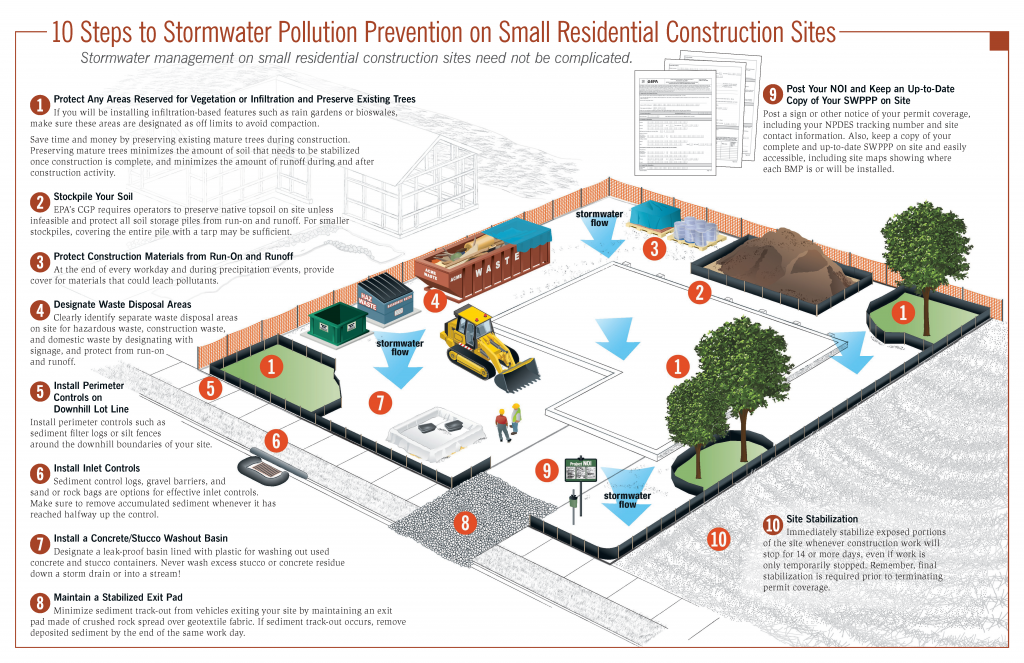 Nov. 11, 2020 – Detention Ponds vs. Retention Ponds
What is the difference?
A pond is a type of stormwater management facility designed to collect rainwater and pollutants and prevent downstream flooding. Retention ponds are also referred to as 'wet ponds' while detention ponds can be referred to as 'dry ponds'. Retention ponds always have a pool of water. Detention ponds only have water after a storm event. Ponds can have many different designs, for instance having concrete channels, sand filters and much more.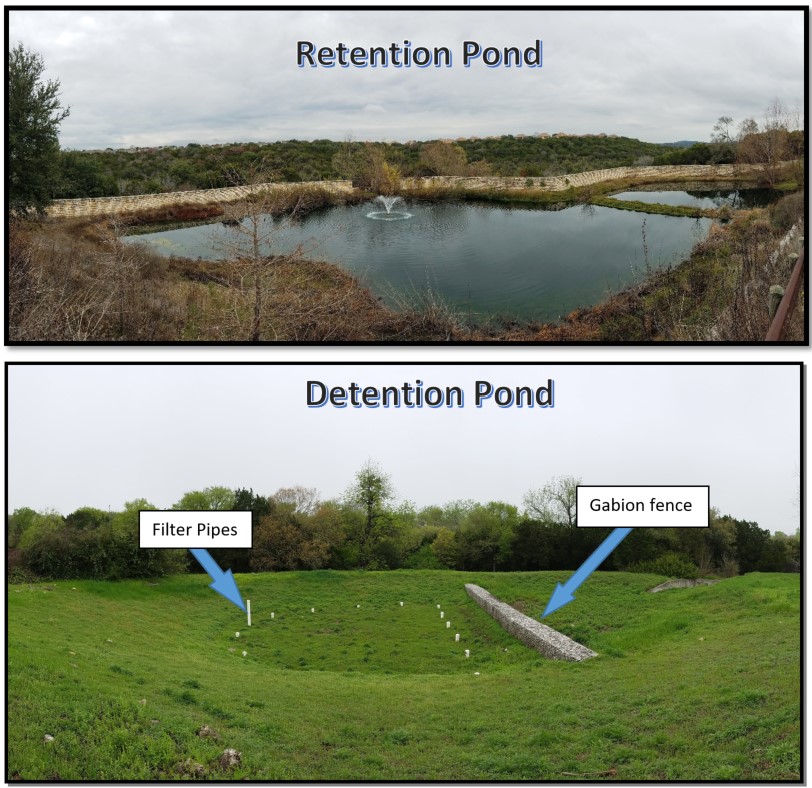 ____________________________
STORM DRAIN "NO DUMPING" MEDALLION LABELING PROGRAM – To help prevent dumping in storm drains, our Certified Stormwater Inspectors place medallions on the drains as a visual reminder that the storm drains run directly into our lake, rivers and creeks. Along with this project, we would like to remind citizens that rain washes chemicals, fertilizers, pet waste, motor oil, and other pollutants from our yards, driveways, sidewalks, and all areas of land into our waterways. Let us all work together to protect our beautiful Lake Travis and all of the wildlife that depends on this body of water.
PROGRAM DESCRIPTION – Travis County Water Control and Improvement District 17 (WCID17) is designated as a Small Municipal Separate Storm Sewer System (MS4) in accordance with the requirements of the Texas Pollutant Discharge Elimination System (TPDES) Small MS4 General Permit TXR040470.
Stormwater discharges are generated by runoff from land and impervious areas such as paved streets, parking lots, and building rooftops during rainfall and snow events that often contain pollutants in quantities that could adversely affect water quality.
PROGRAM FOCUS – The TPDES General Permit program and the Texas Commission on Environmental Quality (TCEQ) require that WCID 17:
Reduce the discharge of pollutants to the maximum extent practicable (MEP);
Protect water quality;
Satisfy the appropriate water quality requirements of the Clean Water Act; and,
Manage stormwater quality activities through the Storm Water Management Program (SWMP.)
In order to comply with the requirements of the MS4 General Permit, WCID 17 has developed a Stormwater Management Program that describes specific actions that will be taken over a five year period to reduce stormwater pollution and protect the area's water quality to the MEP. In developing this plan, the District has considered various activities, public and municipal, that have stormwater impacts. WCID 17 is committed to a proactive approach to stormwater management for the community's health and quality of life. If a member of the public is interested in joining the Stormwater committee for the WCID 17 MS4, please contact Delilah Salinas by calling (512) 801-4082.
In adherence with the General Permit, the MS4 program documents and the Annual Reports are available for public review. These documents are available in hard copy at the Administrative Office at 3812 Eck Lane, Austin, Texas 78734. Annually the MS4 Report is updated to reflect additional requirements and revisions as they come into effect.
WCID 17 encourages you to read A Citizen's Guide to Understanding Stormwater and if you continue to have questions regarding this program, to contact the General Manager at (512)266-1111, extension 113.  Illegal Dumping of waste is serious and can be by both fines and jail time.  You are encouraged to read all about what is considered illegal dumping here in both English and Spanish.
REPORT IT!! – If you see a suspicious discharge, trash or debris in storm drains, or illegal dumping down a storm drain, in a ditch, etc. please report it by calling (512)266-1111, extension 115 or by emailing us at info@wcid17.org. Provide as much information as possible; license plate of vehicle, what they appear to be dumping, location, etc., and a WCID 17 employee will investigate the situation.
For more information, visit the Texas Commission on Environmental Quality website, or again, contact the General Manager at (512)266-1111, extension 113.
Travis County WCID No. 17
3812 Eck Lane, Austin, TX 78734
512-266-1111
Austin web development by WEBii