512-266-1111 | After Hours Emergency Phone #: 512-537-8302 |
Login
Friday, October 30, 2020
Facilities
Steiner Ranch Wastewater Recycling Plant
The Steiner Ranch Wastewater Recycling Plant is designed to treat 1,500,000 gallons of wastewater per day.  This plant has been operating continuously since the late 1980s, and now serves over 4,300 customers in the Steiner Ranch Defined Area. In the future, this plant will serve some subdivisions in close proximity as well.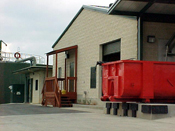 The Steiner Plant uses a standard activated sludge process to treat the wastewater, and a series of disk filters to increase the effluent purity. The treated effluent is chlorinated, and pumped to large holding ponds. The water is then used to irrigate the University of Texas Golf Course, the landscaped areas and medians of Quinlan Park Road, and the common areas of some subdivisions in Steiner Ranch. Using the recycled water saves 500,000 to 800,000 gallons of potable water per day in the summer months.
Flintrock Wastewater Recycling Plant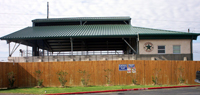 The Flintrock recycling plant, located on Lohman's Spur Road was completed in 2005 and is capable of treating 500,000 gallons of wastewater per day. This plant can serve approximately 2,000 customers on properties in the Southern areas of the District including the Lake Travis High School complex as well as the Lakeway Regional Medical Center. The treated water is recycled for use in irrigating the Flintrock Falls Golf Course.
The Flintrock plant uses a standard activated sludge or bacterial treatment in a Sequencing Batch Reactor (SBR). In this system, wastewater is added to a single vessel, treated to remove undesirable components and then discharged from the vessel. The effluent is then filtered and chlorinated to achieve a high degree of cleanliness before being pumped to the irrigation ponds which have been constructed in and around the golf course. SBR Systems have been successfully used to treat both municipal and industrial wastewater in many communities.
The Flintrock wastewater recycling facility will be expanded in 2016 to increase capability to treat 1,000,000 gallons of wastewater per day while serving existing customers and new development in the area for years to come. This facility will continue to conserve water through recycling, and protect the environment through proper treatment of wastewater.
Comanche Canyon Ranch Wastewater Treatment Plant
This 100,000 gallon per day wastewater treatment plant was completed in late 2005. It is a standard activated sludge process plant which will process wastewater from approximately 350 homes in the Comanche Trail area, and pump treated effluent to the City of Austin's Bull Creek wastewater collection system.
Commander's Point Wastewater Treatment Plant
This small 100,000 gallon per day activated sludge treatment plant was constructed to serve the Commander's Point condominium development and is located on Mansfield Dam Court.  This plant serves approximately 70 customers and irrigates over eight (8) acres of landscape and natural area with reclaimed water.
Tips for Keeping Your Wastewater System in Top Shape
Get tips on keeping your wastewater system healthy.
Travis County WCID No. 17
3812 Eck Lane, Austin, TX 78734
512-266-1111
Austin web development by WEBii