Stormwater Programs Help Preserve Lake Travis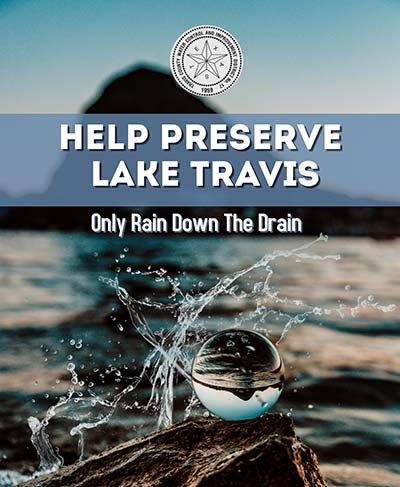 Storm drains are designed to remove excess water from streets during rainy weather, vehicle washing, and also from over-irrigation of grassy areas. Unlike the wastewater from inside homes and businesses that flows through sewer and treatment plants, outside water runoff courses through manmade components such as ditches, pipes, inlets, catch basins, and ponds. It also makes its way to the natural components which are the local streams, flood plains, and wetlands.
Please be aware and mindful that all drain inlets must be protected from harmful disposals, even yard trimmings. Yard trimmings can clog a storm drain and cause unnecessary backup of water in the drainage system. What can you do? It is simple! Dump NOTHING down the storm drains that you wouldn't swim in or drink. As with any new initiative, it will take time for the full effect of the Stormwater Quality Program to be realized. However, substantial improvements in maintenance services and better drainage care should be visible with your watchful eyes helping near your home. Education and teamwork will be key as we move forward together to protect our beautiful lakes.
Anyone living in the Central Texas area is familiar with the problems that a heavy rainfall or severe thunderstorm can create. Roads can become impassable and standing water remains long after the storm passes. As water flows, the runoff collects and transports soil, pet waste, pesticides, oil and grease, plastic bags, cigarette butts and other pollutants directly in to the lakes. This contaminated flow pollutes our waterways and is harmful to wildlife, aquatic life, plants and humans. Even during the driest day of summertime in Texas, we produce 14 million gallons of stormwater which can surge from activities such as car washing and lawn watering.
Being on the lookout for storm drain blockages and monitoring what we allow into these drains will help to control the quantity of flow and enhance the quality of stormwater draining directly into our beautiful Lake Travis. Together we can make a difference to preserve the quality of this natural reservoir which also severs as our source of potable drinking water.